Like many physician recruiters, PracticeLink, too, is on the road a lot!
PracticeLink exhibits at more than 55 conferences and events each year! As beneficial as exhibiting can be for physician recruiting, the expense of exhibiting can easily outweigh the benefits without proper planning.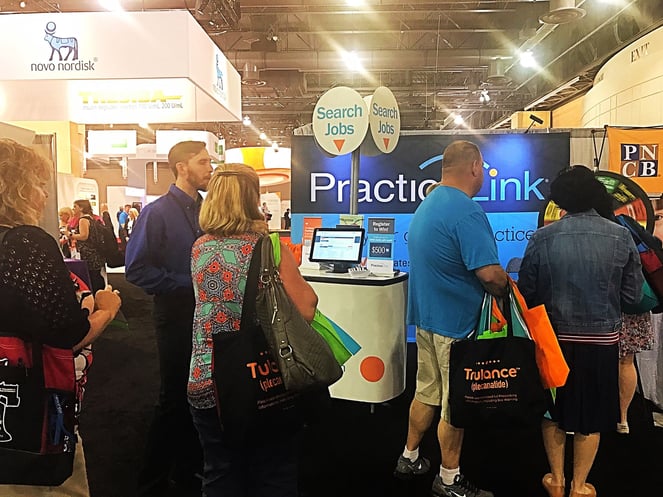 I have been in the trade show/meeting-planning industry for more than 20 years and have learned a few cost-saving tricks along the way. Every dollar counts when working within a budget, and saving a dollar here and there can easily add up to substantial savings.
Here are a few simple ideas that you can follow to reduce your costs when it comes to exhibiting at physician specialty meetings, and invest those savings into other areas!
1. Don't rent trash cans at physician conferences
My first cost-saving tip may seem small, but I have stopped renting trash cans in the PracticeLink booth space. You may think that it's only a $20 expense, but what I noticed was that I was paying for a trash can for everyone who passed by my booth to dispose of their coffee cup, banana peel or leftover lunch—and that I didn't use it all!
Most of the time, there are large trash bins conveniently located on the exhibit floors at physician specialty conferences, so why make it easy to fill your booth space with smelly garbage? If you attend five conferences a year, you have just saved over $100 dollars of your event budget!
Savings: $20 per conference
2. Consolidate your shipping
Shipping and material handling are two of the most expensive aspects of exhibiting besides your travel expenses. Material handling or drayage is the union fee assessed for moving your booth shipments from the truck to your booth space.
There are typically minimum fees per shipment, regardless of the shipment's weight. So, by consolidating your shipment, you can reduces drayage prices significantly. Try to ship everything all together from one location so the venue only receives one shipment, not multiple small shipments that would each get assessed the minimum fee. This can save hundreds of dollars per event as well as reduce the risk of lost or misdelivered shipments.
Savings: About $200 per conference (or higher!)
3. Don't pay for vacuuming in your conference booth
The overall appearance of your booth space is very important. No one wants a booth space filled with crumbs and dirt, but keeping your space tidy can get expensive.
Typically, venues charge by the square foot for vacuuming, and a three-day conference can easily cost over $150 or more.
I recommend purchasing a handheld vacuum and ship with your display items (or even purchase one onsite). You can pick up a nice one for under $40. Even if you only use it one time, you save over $100 on just one event! Multiply that savings for all of your shows, and one $40 vacuum could save you hundreds of dollars over the course of the year.
Savings: $150 per show
4. Get the lead retrieval app, instead of renting the scanner
We all attend conferences for one thing…to obtain leads. At most physician specialty conferences, you can purchase access to the lead collection app, instead of a handheld scanner, that will allow you to scan leads and download lead reports straight to your phone or tablet.
These apps are considerably less expensive than the older handheld scanners, and even allow you to download them to multiple devices. I have found them to be very convenient, and we have reduced our lead retrieval costs for each event by over $100 at most conferences.
Savings: $100 per conference
5. Don't buy candy for your conference booth
I used to spend $50 to $100 on Kit Kats, Twix and Reese's (my three favorites) to give out in my booth to entice people to stop. What I realized was that I was eating most of the candy and everyone else was just grabbing a handful as they walked by.
The people eating the candy had no interest in what I had to say—they just needed their afternoon chocolate fix.
Your money is much better spent on creative giveaways that contain your logo and contact information. At least that way, customers go away with a piece of marketing material and not just a satisfied sweet tooth—and you don't gain five pounds eating chocolate!
Savings: Average $75 per conference
Total saved per conference: $545
These are just a few simple ideas that can end up and save you big bucks over the course of your year of exhibiting. Starting small can pay off big, it's just a matter of rethinking ways of doing things!
Got any tips to share about how YOU save money at physician conferences? Add them to the comments!