During this season of gratitude and reflection, I've been especially thankful for a specific group of people: physician recruiters.
Recently, I became acutely aware of how important your work is.
I'm a lucky person, and sometimes that luck equals ignorance. I enjoy good health, so despite having built a career in healthcare marketing, healthcare has remained mostly theoretical for me. The extent of my patient-doctor relationship is an annual check-up.
On Saturday, September 30, that all changed—not for me directly, but for my husband, Max, which is close enough.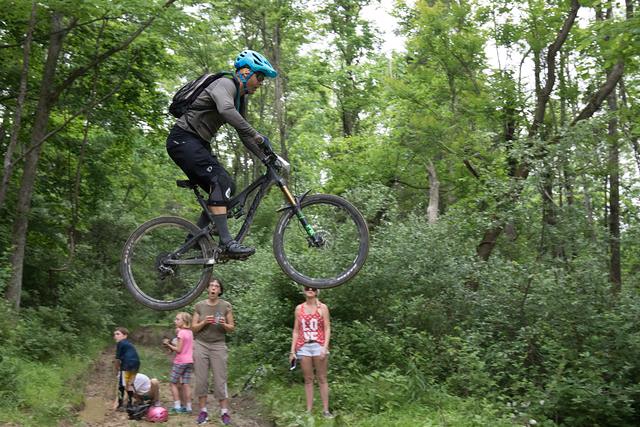 The accident
Max races mountain bikes and has since the late 80s. He's also lucky, I should add. Sure, there have been some broken bones over the years and plenty of stitches, but he's come out mostly unscathed.
On that Saturday, Max was out of town test riding some newly built trails. Later I would learn he had missed a gap jump, falling approximately 25 feet. He was carried off of the trail on a backboard.
The hospital
At the small, rural hospital near the bike park, X-rays led to a CT scan, which led to a two-and-a-half-hour ambulance ride from Snowshoe, WV, to Carilion Clinic's Level 1 Trauma Center. By midnight that first evening, we were waiting on the scans that would clarify whether Max was in danger of permanent paralysis.
By the next day, we had a better picture of the extent of his injuries. Max had fractured his back in two places. He had broken several ribs on his right side, front and back, and punctured a lung. (I had never considered the damage broken ribs can do to organs.) He'd also fractured his clavicle and tore ligaments in his shoulder.
Max would end up spending most of the next week in the hospital, which meant I spent most of the next week in the hospital. In that time, I got a crash course in patient advocacy and how many physicians and specialists it takes to get a guy back on his bike.
Thank you
My gratitude begins with the ER physician at Pocahontas Memorial Hospital near Snowshoe Bike Park who, on second thought, decided to run the CT scan. I'm also grateful for the ER physician at Carilion who was easygoing and patient with my frantic anxiety while we waited to find out how serious the fracture was. The phrase that had triggered my panic was "paralysis from the bellybutton down."
When Max was finally admitted, I met and grew to love the trauma team, an entourage of residents and their attending physician, who would crowd around Max and marvel at his lung capacity, even in his deflated condition. The neurosurgery team was a serious crew (except for the one resident who winked at me every time he left the room). There were lots of instructions and plenty of notetaking but not so much casual conversation. They were busy.
Over that week, Max had the attention of dozens of physicians. Each of them brought their expertise and desire to do the greatest good every day. I know all about the pressures physicians face, theoretically speaking, of course: the regulations, the push for integrated technologies that never really integrate, the fear of making a mistake, the pressure to see too many patients in too little time. I've written all about that stuff.
But I honestly didn't see those pressures on the faces of the physicians I came to know over that week. I believe that is, in part, because each of those physicians was a good fit for his or her position. Each one seemed highly qualified, fully vetted, and happy to be there. And that was because of your work.
You know that recruiting physicians is so much more than finding a candidate who can do the job. It is matching the right person to the right opportunity so that they're able to do the life-saving work my husband received.
Thank you to the team of recruiters who found the physicians who ensured my husband wasn't paralyzed, and who continue to support him until he can get back on his bike.
Your work matters, and I am personally grateful.